Coming out of a global pandemic, the bread industry is going through an interesting transformation.
After booming the past two years, fresh bread sales are starting to recede and return to pre-pandemic levels. According to Snack Food & Wholesale Bakery's State of the Industry Report, center store sandwich bread sales experienced flat dollar sales and a -6% drop in unit sales for the 52-week period ended March 20, 2022.
The underwhelming results are not entirely surprising, and other categories in the food industry are experiencing similar post-pandemic "normalizations." However, the current state of the bread category does require bakeries to mine every efficiency and consumer trend to gain a competitive advantage and increase sales.
Here are five things bread bakers can do to maximize their bread operations.
1. Focus on Innovation
Sliced bread has been around for ages, but there is still innovation to be found in the bread category. For example, one of the bright spots in sandwich bread this year comes from Evansville, Indiana-based Lewis Bakeries, which saw a 15% increase in dollar sales due to the success of its ½ loaf format.
Half-loaf formats are gaining in popularity with bakers due in part to advances in packaging machinery that allows for bakers to produce full- and half-size loaves on the same equipment. For example, the Hartmann line of slicers and baggers easily accommodates multiple loaf sizes with minimal changeover.
Flowers Foods' brand, Dave's Killer Bread, is known for its innovative loaves, and the company is not resting on its laurels. The brand's recently launched Epic Everything Organic Breakfast Bread steals a popular flavor from the bagel category and brings it to the bread aisle.
Another innovative launch comes from the new company Sea and Flour, which has an intense focus on sustainability. The company launched a line of "carbon-negative" breads using a formula that blends sea plants with common grains and flours.
2. Increase Automation
Costs for ingredients are skyrocketing and labor wages are increasing while the labor pool decreases. It's tough for commercial bakeries to maintain profitability under these circumstances, but it's not impossible. Step one: automate your subprocesses.
Analyze the number of operators needed on your fresh bread production line. Most likely, your packaging, loading and distribution areas are very labor intensive. Fortunately, these subprocesses can be automated while maintaining the integrity of the bread. The SR Pack Basket Loader combined with the Rexfab Basket Stacker with Dolly Loader are tailormade solutions for bread production lines, achieving cost reductions and increasing the competitiveness of your bakery.
3. Develop Premium, Better-For-You Breads
Despite inflation, sales growth of premium breads with positive health positions have been impressive. "Many households are buying both the healthful bread with mom on the keto diet or with sensitivity to gluten, but she's still buying regular, mainstream bread for the kids," Melissa Altobelli, IRI's principal, strategic solutions group, told BakingBusiness.com.
Keto breads are booming from niche brands such as Base Culture and nationwide giants such as Sara Lee. Toufayan expanded the Keto craze to the flatbread category with the recent launch of its Keto Pitas, Flat Breads and Wraps. The company's formulation consists of oat flour and a keto base that includes resistant wheat starch, wheat gluten, wheat protein isolate, oat fiber and other ingredients.
4. Attend IBIE
This triennial baking industry trade show is the place to be in September to check out the latest automated equipment and innovative ingredients. We'll have a big team from Rexfab at booth No. 1355, and you can check out some of the exciting things we're bringing to the show to help bread bakers maximize efficiency and profitability.
5. Expand Categories
For bread bakers who specialize in retail sandwich breads, look for opportunities in the in-store and foodservice channels. Bimbo Bakeries has done an excellent job of this with its Bimbo Bakehouse division that serves in-store bakeries and foodservice outlets.
For example, the company's Goldminer California Sourdough Bread looks, smells and tastes like it was freshly baked at an in-store bakery. In addition to wide-format loaves, the Goldminer brand also supplies boules, rolls and baguette style formats.
By servicing multiple categories, bakeries can weather flat or falling sales in retail with minimal production line modifications. Our Hartmann bread slicers and baggers were built for versatility and situations like this, handling traditional sandwich loaves and artisan breads with only minimal adjustments needed. Contact Rexfab to learn how our bread experts can help your bakery maximize profits.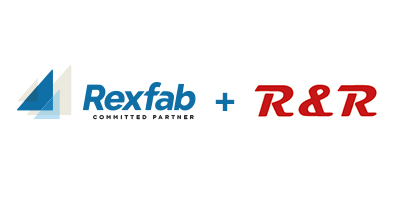 In an ever-evolving world of food processing, efficiency and quality are non-negotiable. It's not just about getting products from point A to point B anymore—it's about delivering exceptional quality, unmatched reliability, and innovative solutions that fuel growth and success for businesses.
Today, we're thrilled to announce a partnership that promises to redefine the standards of the food processing industry: Rexfab's partnership with R&R.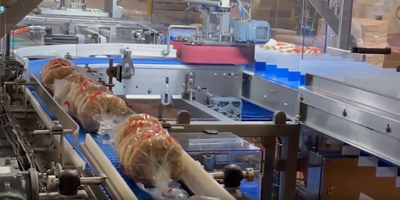 When you're in the business as long as we have, you come to recognize the genuine expertise when you see it. And Jim Bonatakis has been our go-to for over 25 years for all things related to packaging machinery. We've had our fair share of challenges, and every single time, Jim was right there with the solutions we needed.
So, when Jim talked to us about Rexfab and the cutting-edge technology they brought to the table through their own technology, as well as partners integrations, we were all ears. And boy, are we glad we listened!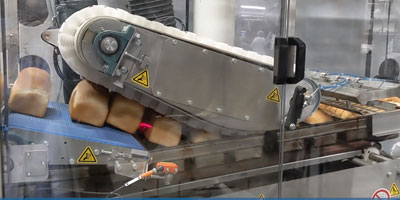 Depanning is a vital step in bakery operations. Choosing the right equipment, like Rexfab's Inline Vacuum Depanner (IVD), can significantly improve this process. The IVD is designed to automate depanning and integrate into your bakery's complete pan handling operations. It is available in three models, offering a range of widths to suit different bakery sizes and production volumes. The IVD stands out for itsdesign improved sanitation, reduced power consumption, and low-decibel operations, making it a top choice for bakeries looking to enhance their depanning process.